I'm often asked how I came to be a formulator.
The answer is deeply personal for me. I have highly sensitive and reactive skin that erupts in blisters, rashes, eczema from head to toe, and various forms of dermatitis when out of balance. From a very early age, my skin was the focus of heightened attention – as a baby, toddler, grade schooler, middle schooler, high schooler and into my 20s I struggled with skin that kept me in a constant state of frustration, embarrassment (kids can be brutal), and extreme discomfort.
My parents discovered I had a sensitivity to glues, dyes, synthetic fragrances, preservatives, and a long list of irritants. Traditional skincare wreaks total havoc on my complexion, and even many "natural" ingredients irritate my skin. As I grew older, my chemical sensitivities continued to increase and I became more aware of how much my environment affected my well-being, even beyond my skin. As a teenager, I wanted to play and experiment with new products in the way that young people often do—fun colored masques, scented cleansers, scrubs, and treatments. All the physicians were advising things that made things terribly worse such as, vaseline, mineral oils that did nothing but suffocate my skin and cause more inflammation. These things simply were not options for me. I found that there were very few clear alternatives available. My solution was to immerse myself in the study of natural remedies and ultimately create formulas targeted to my own challenges and goals.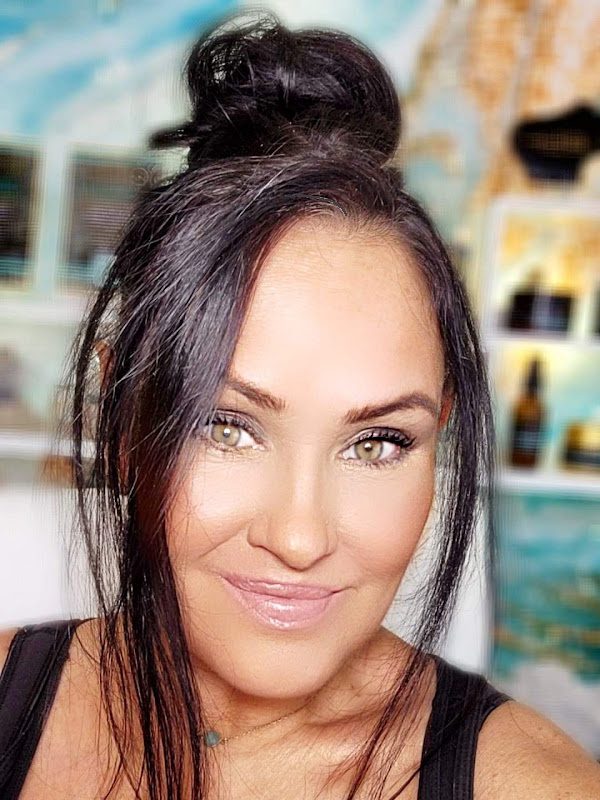 As a child I spent the summers with my parents, sister, and our german shepherd dog "Bullet", boating on the Puget Sound in the Pacific Northwest; this was the start of my apothecary adventures. I remember my dad saying to me one summer "Your skin looks all the way clear and perfectly normal from swimming this summer". This always stuck with me because that was the moment I realized I could heal my skin naturally. I had spent the summer swimming in salt water packed with ocean minerals, marine phytoplankton, seaweed, and mineral-rich mud.
Over the years, my knowledge, experience, and passion evolved and took on a new focus. The joyful experiences of my youth boating, swimming, and playing in mud carried a very different energy than the years of intensive study that followed. I began to focus specifically on creating skincare that actually works and is nutrient-rich, like food and medicine.  I believe it is critical to address core issues and to create products that truly help to measurably heal damaged skin providing what it needs to better take care of itself to reduce damages. I am committed to doing this through resonant skincare.
After several years of playing with ingredients and dabbling in making my own individual formulas I found a combination that worked. I officially launched the Karina Harris Skin collection with our first retail partner Whole Foods Market.  Now my family, pets, friends, and all of you are sharing in my world and bringing me extraordinary delight and assuredness to my purpose.

So often, we either rush through our cleansing routines, or pull out every tool, gadget, or product we can find, never really acknowledging what is happening right here on our most vulnerable organ. It is vitally important to me that my formulas deliver results. It is of equal importance that any self-care ritual I create inspires playfulness, over-the-top self-indulgence, and loving care for both your skin and entire being.
My mission was to bottle a catalyst for self care, and every day, I see this rippling further and further out into the lives of our clients. I want you to feel something when you pick up a bottle and enter your cleansing, moisturizing, and anti-aging ritual. I want you to feel peace, joy, and an extraordinary experience in self care for your skin. This moment is sacred, and it's yours.
With my love and admiration of the ocean, I have a passion to do the best I can to reduce my carbon foot print with eco-packaging.
 

Karina spent most of her life since she was young dealing with issues with her skin.

Her first entrepreneurial endeavor was at the age of 10 when she started a successful lemonade stand. Her story was printed on the front page of the local newspaper.

By the age of 35, Karina had built a very

successful

home-based business which was in the top 10% in the worldwide direct sales industry. Her story of success was featured in several magazines and publications.

After traveling to many parts of the world and being impelled by her struggles with skin-related issues to spend her life as a student of skin, Karina realized the power of getting back the basics. She saw the wisdom in using ingredients from indigenous people from around the world. This was when Karina discovered she could heal her own skin with nature and she was inspired to create her own line of skincare products. These products were so effective that they were accepted as a product line into Whole Foods Market.

Karina now runs an influencer program that helps entrepreneurs like herself to earn money from home. Karina Harris Marketing and Training Private Group trains, mentors, and provides the tools for our influencers to have a successful business.
Karina Harris Skin was born from an intention to restore your connection to your skin while igniting recognition of your unique beauty. We are here to encourage you to discover your sacredness of your skincare ritual—the magic of your own touch, magnified by the potency of pure plant oils, minerals, and herbs. Our mission is to provide a catalyst for a conscious time-out, while also delivering unparalleled personal service and measurable results.
We pour every effort into delivering the most beautiful experience we can imagine. We are committed to crafting our treats ethically and with uncompromising integrity, from the seed to the bottle. Operating from our hearts on a foundation of good creates a ripple that goes out into the world, facilitating transformation far beyond the lives of just our team and clients. It is not an exaggeration to say we cannot do this without you. Our clients are our sole investors, our board of directors, our toughest critics, and our greatest cheerleaders. You are a piece of our chosen family. We do not take money from outside sources and with that comes great freedom. We answer to our own code of values, and to you. From this place, magic happens.
We respect and admire our source—the planet—and go to extensive means to ensure that each of our ingredients are procured with the highest sustainable, ethical, and qualitative standards in mind. Our collection is handcrafted using only the finest exotic and nutrient-rich ingredients that are available: organic, bio-dynamic, wild-crafted, cruelty free, sustainable, and/or harvested with social consciousness in mind. These ingredients are not tested on animals, nor are our finished products. We do not sell in any countries that require animal testing.
We encourage environmental thoughtfulness in every step of our production – from the growth, harvesting, and processing of our raw ingredients to the packaging of our products. Our boxes and glassware are recyclable. We pack our boxes for shipment with recycled paper materials, rather than plastic or peanuts.
We are built on our commitment to honor the integrity of each plant and raw ingredient lovingly and meticulously sourced for our formulas. For us, the making of every fresh micro-batch is a celebration of the land and farmer; a moment to give thanks as we fill each precious bottle and affix its "born-on" label.

Our hands and our hearts are involved every step of the way, from the moment our potent raw ingredients come through our studio doors to the second they leave, transformed into fresh, skin-loving goodness.

We are fastidious in our process and committed to the unparalleled quality and freshness of our uniquely transformative formulas. We are proud to be a direct-to-consumer artisanal skincare brand, choosing to bypass a retail presence in order to focus our efforts on blending, filling, and shipping our small batch products right to you at home, directly from our kitchen lab.

To honor the vitality of these treats, the nourishment that fills them, and the hands that made them, we encourage you to begin use upon delivery and enjoy within one year of opening.

Your skin desires to be fed each and every day with love and care.